Fuchsia thymifolia
Onagraceae
Brebissonia thymifolia (Kunth) Spach
Encliandra thymifolia Lilja
Fuchsia colimae Munz
Fuchsia minimiflora Hemsl.
Fuchsia pringlei B.L.Rob. & Seaton
Lyciopsis thymifolia (Kunth) Spach
Common Name: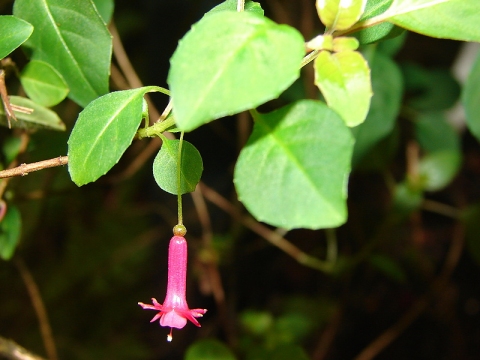 Flower and leaves
Photograph by: Ivo Antušek
Public domain


Flowering branch
Photograph by: Stickpen
Public domain

General Information
Fuchsia thymifolia is an erect, evergreen shrub growing from 50 - 220cm tall.
The edible fruit is sometimes gathered from the wild for local use. The plant is widely grown as an ornamental, especially in warm temperate zones to higher elevations in the tropics.
Known Hazards
None known
Botanical References
Range
C. America - northern Guatemala to northern Mexico.
Habitat
A common shrub in the understory of Pinus, Quercus, and Abies forests from the mountains of Sinaloa and Durango, Mexico, southward to Chiapas and northern Guatemala; at elevations from 1,800 - 3,200 metres.
Properties
| | |
| --- | --- |
| Edibility Rating | |
| Habit | Shrub |
| Height | 0.00 m |
| Cultivation Status | Ornamental, Wild |
Cultivation Details
Plants are likely to be able to tolerate at least some frost[
Succeeds in partial to fairly deep shade[
Fuchsia species flower and fruit mainly on new wood produced in the same growing season. Any pruning, therefore, is best carried out at the start of the growing season, cutting out old wood in order to encourage vigorous new growth[
A gynodioecious species with some plants producing only female flowers and others producing hermaphrodite flowers. Gynodioecy occurs as a result of a genetic mutation that inhibits a hermaphroditic plant from producing pollen, while keeping the female reproductive parts intact.
Edible Uses
Fruit - raw[
Medicinal
None known
Other Uses
None known
Propagation
Seed - best sown as soon as it is ripe[
Inter-nodal cuttings of greenwood, 5 - 8cm long in a frame. Quick and easy, a high percentage take[
Inter-nodal cuttings of half-ripe wood in a frame. Very quick and easy, treat as greenwood cuttings above[
Cuttings usually succeed at any time during the growing season[
If you have any useful information about this plant, please leave a comment. Comments have to be approved before they are shown here.