Diplazium proliferum
Woodsiaceae
Anisogonium attenuatum (C.Presl) C.Presl
Asplenium attenuatum C.Presl
Asplenium decussatum Sw.
Asplenium luzoniense Spreng.
Asplenium proliferum Lam.
Asplenium spinulosum (Blume) Mett.
Athyrium proliferum Milde
Athyrium ridleyi Copel.
Callipteris accedens (Blume) J.Sm.
Callipteris attenuata (C.Presl) C.Presl
Callipteris prolifera (Lam.) Bory
Callipteris spinulosa (Blume) J.Sm.
Digrammaria robusta Fée
Diplazium accedens Blume
Diplazium decussatum Hook.
Diplazium incisum K.Schum.
Diplazium repandum Blume
Diplazium serratum K.Schum.
Diplazium spinulosum Blume
Diplazium swartzii Blume
Elaphoglossum ornithoglossum Mickel
Common Name: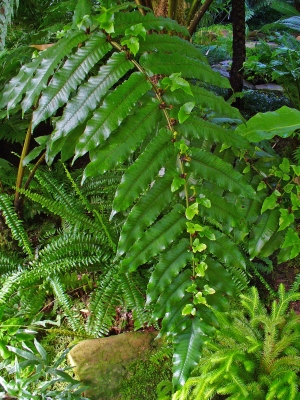 Frond with new young plants developing along the central stem
Photograph by: H. Zell
Creative Commons Attribution-Share Alike 3.0


Close-up of new baby plants developing along a frond
Photograph by: Th.Voekler
Creative Commons Attribution-Share Alike 3.0

General Information
Diplazium proliferum is an evergreen fern producing fronds up to 1 metre tall from a short, erect rhizome that can become somewhat like a short trunk[
The plant is harvested from the wild for local use as a food. It is widely grown as an ornamental, valued at least partly for its habit of producing bulbils along its fronds which then develop into new young plants[
Known Hazards
None known
Botanical References
Range
Widespread in tropical Africa, including Madagascar.
Habitat
Raphia thickets and marshes[
Properties
| | |
| --- | --- |
| Edibility Rating | |
| Habit | Evergreen Fern |
| Height | 1.00 m |
| Cultivation Status | Ornamental, Wild |
Cultivation Details
Not known
Edible Uses
Young fronds - cooked[
Bulbils - raw or cooked[
Medicinal
None known
Other Uses
None known
Propagation
Spores - easy to reproduce[
The bulbils produced on the fronds can be detached and placed in the soil for rooting, or they can be left on the plant to develop into plantlets which can be simply detached and planted[
If you have any useful information about this plant, please leave a comment. Comments have to be approved before they are shown here.