Diospyros iturensis
Ebenaceae
Diospyros insculpta Hutch. & Dalziel
Maba bequaertii De Wild.
Maba euosmia Mildbr.
Maba iturensis Gürke
Maba laurentii De Wild.
Maba ripicola Mildbr.
Common Name: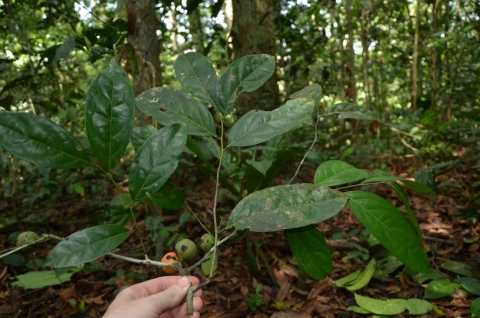 Fruiting branch
Photograph by: Ehoarn Bidault


Cross-section of the fruit showing the flesh and seeds
Photograph by: Ehoarn Bidault


Close-up of the flowers
Photograph by: Ehoarn Bidault

General Information
Diospyros iturensis is a tree that can grow up to 20 metres tall. The irregular, fluted bole often branches from ground level, it can be up to 40cm in diameter[
The trees are harvested from the wild for local use as a medicine and source of wood.
Known Hazards
None known
Botanical References
Range
West tropical Africa - Nigeria, Cameroon, Central African Republic, Equatorial Guinea, Gabon, Congo, DR Congo, Angola.
Habitat
Growing on river-banks; or in the lower storey of forests on soil not subject to inundation[
Properties
| | |
| --- | --- |
| Medicinal Rating | |
| Other Uses Rating | |
| Habit | Tree |
| Height | 15.00 m |
| Cultivation Status | Wild |
Cultivation Details
We have seen no individual confirmation for this species, but in general Diospyros species are dioecious and require both male and female forms to be grown if fruit and seed are required[
Edible Uses
None known
Medicinal
The roots are lightly torrified and the bark is pounded with rock-salt and palm-oil to produce a paste which is applied to points of costal pain, and to scarifications on the chesy to treat bronchial affections[
Tannin, steroids and terpenes are present in the leaves, bark and roots[
Quinones, absent from the leaves, are present in the bark and in greater amounts in the roots[
Other Uses
The heartwood is black, and is sometimes cracked at the centre; it is clearly demarcated from the white sapwood. The wood is used to make paddles and spear-shafts, pestles and mortars, carvings for masks and fetishes, and tourist bric-a-brac[
Propagation
Seed - in general the seed of Diospyros species has a very short viability and so should be sown as soon as possible. The flesh should be removed since this contains germination inhibitors. Sow the seed in a shady position in a nursery seedbed. The sowing media for ebony uses soil and fine sand at the ratio 3:1. The seed is planted horizontally or vertically with the radicle end down, with a sowing depth of 1 - 1½ times the thickness of seed. Distance between the seeds is 3 - 5cm. Seeds are very sensitive to desiccation during germination and early growth, so must be regularly watered at this time. Normally the seed will germinate after one week[
As a rule fresh seeds have a high percentage of fertility. The seedlings develop long taproots at an early stage, often before any appreciable elongation of the shoot takes place. The growth of the seedling is decidedly slow [
If you have any useful information about this plant, please leave a comment. Comments have to be approved before they are shown here.