Blumea lacera
Asteraceae
Baccharis auriculata Wall. ex DC.
Blumea acrocephala Miq.
Blumea bodinieri Vaniot
Blumea cernua DC.
Blumea cinerascens DC.
Blumea commersonii Edgew.
Blumea cuneifolia DC.
Blumea dregeana DC.
Blumea elongata DC.
Blumea fontinalis Edgew.
Blumea glandulosa DC.
Blumea heyneana DC.
Blumea hieraciifolia Hook.f. & Thomson
Blumea holosericea DC.
Blumea hymenophylla DC.
Blumea javanica (Blume) Zoll. & Mor.
Blumea lactucifolia DC.
Blumea musra DC.
Blumea sinapifolia Gagnep.
Blumea subcapitata DC.
Blumea thyrsoidea Sch.Bip.
Blumea trigona DC.
Blumea velutina H.Lév. & Vaniot
Blumea villosa Sch.Bip. ex Hook.f.
Conyza acrocephala Miq.
Conyza amoena Link
Conyza dentata Blanco
Conyza hamiltonii Steud.
Conyza javanica Blume
Conyza lacera Burm.f.
Conyza lactucifolia Wall.
Conyza natans Buch.-Ham. ex Hook.f.
Conyza necessaria Buch.-Ham. ex DC.
Conyza thyrsoidea Pers.
Conyza velutina (H.Lév. & Vaniot) H.Lév.
Erigeron exstipulatus Schumach. & Thonn.
Senecio velutinus H.Lév. & Vaniot
Common Name: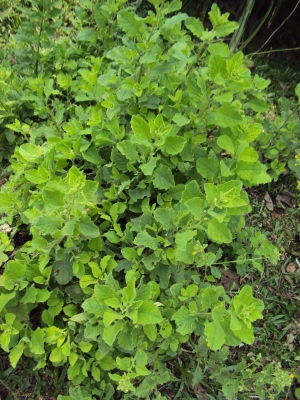 Growing plant
Photograph by: Vinayaraj


Flowering stem
Photograph by: Vinayaraj


Drawing of the flowering stem (Fig 1 only)
Photograph by: Burman, N.L., Flora Indica, p. 180, t. 59, fig. 1 (1768) [A. van der Laan]

General Information
Blumea lacera is an erect, annual plant with branched stems 18 - 100cm tall[
The plant is harvested from the wild for local use - mainly as a medicine but also for food and as a source of essential oil.
Known Hazards
None known
Botanical References
Range
Widespread from Africa through tropical Asia to New Guinea, northern Australia and Guam
Habitat
Dry fields, in grasslands, by roadsides, in open places and along the edges of forests; at elevations from 10 - 1,400 metres[
Properties
| | |
| --- | --- |
| Edibility Rating | |
| Medicinal Rating | |
| Other Uses Rating | |
| Habit | Annual |
| Height | 1.00 m |
| Pollinators | Insects |
| Cultivation Status | Wild |
Cultivation Details
Plants can flower all year round[
Edible Uses
Leaves - cooked and eaten as a vegetable[
Medicinal
A decoction of fresh flowers is given before meals to treat bronchitis[
The leaves are astringent, deobstruent, diuretic, febrifuge and stimulant. The leaf juice is a useful anthelmintic[
An astringent eye-lotion has been prepared from the leaves[
Other Uses
The plant contains a strong, camphor-like essential oil[
Propagation
Seed -
If you have any useful information about this plant, please leave a comment. Comments have to be approved before they are shown here.