Barringtonia macrostachya
Lecythidaceae
Baranda angatensis Llanos
Barringtonia acuminata Korth.
Barringtonia annamica Gagnep.
Barringtonia balabacensis Merr.
Barringtonia cochinchinensis (Blume) Merr. ex Gagnep.
Barringtonia craibiana R.Knuth
Barringtonia cylindrostachya Griff.
Barringtonia fusicarpa Hu
Barringtonia isabelaensis R.Knuth
Barringtonia moluccana R.Knuth
Barringtonia olivacea R.Knuth
Barringtonia pendens R.Knuth
Barringtonia rosea Wall. ex R.Knuth
Barringtonia wallichiana R.Knuth
Careya macrostachya Jack
Doxomma acuminatum (Korth.) Miers
Doxomma cochinchinense (Blume) Miers
Doxomma cylindrostachyum (Griff.) Miers
Doxomma macrostachyum (Jack) Miers
Michelia acuminata (Korth.) Kuntze
Michelia macrostachya (Jack) Kuntze
Stravadium acuminatum (Korth.) Blume
Stravadium cochinchinense Blume
Common Name: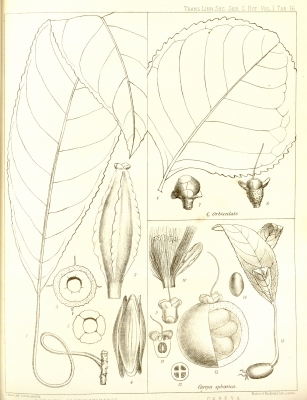 General Information
Barringtonia macrostachya is an evergreen shrub or a tree that can grow from 4 - 20 metres tall, occasionally to 30 metres. The bole is 3 - 35cm in diameter, exceptionally to 90cm[
The plant is harvested from the wild for local use as a food and medicine.
Known Hazards
None known
Botanical References
Range
E. Asia - southern China, Myanmar, Thailand, Vietnam, Malaysia, Indonesia, Philippines, New Guinea.
Habitat
Rainforest, in both dense primary and the more open secondary formations, growing on hills, along rivers, or in periodically inundated or swampy areas, mostly on sand or loam, at elevations from sea-level to 700 metres, occasionally to 1,300 metres[
Properties
| | |
| --- | --- |
| Edibility Rating | |
| Medicinal Rating | |
| Habit | Evergreen Tree |
| Height | 10.00 m |
| Pollinators | Moths, Bats |
| Cultivation Status | Wild |
Cultivation Details
Not known
Edible Uses
The seeds, duly prepared, are considered edible[
Medicinal
The pulped root is used as an application to the skin for treating ringworm, and on sore eyes[
A decoction of the leaves is drunk as a remedy for stomach-ache[
Other Uses
None known
Propagation
Seed - best sown as soon as it is ripe. About 40% of the seed germinates within 9 - 22 months[
If you have any useful information about this plant, please leave a comment. Comments have to be approved before they are shown here.