Aloe elgonica
Asphodelaceae
Common Name: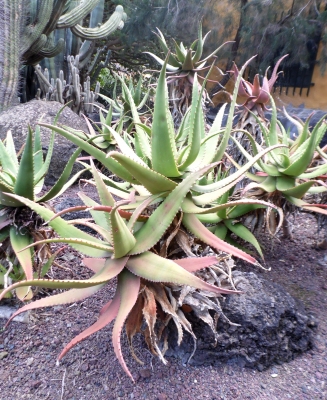 Aloe elgonica in Jardín Botánico Canario Viera y Clavijo
Photograph by: Krzysztof Ziarnek, Kenraiz
Creative Commons Attribution-Share Alike 3.0


Inflorescence
Photograph by: User:BotBln
Creative Commons Attribution-Share Alike 3.0

General Information
Aloe elgonica is an evergreen, succulent shrub with erect or decumbent stems that can be 1 metre or more long; the stems branch from the base, often forming large, dense clumps. Each stem is topped by a rosette of leaves.
We have yet to find references to the traditional uses of this plant, but it is one of several species that is often harvested from the wild as a source of 'bitter aloes', which have a range of medicinal uses and are sold to wholesalers for international trade.
The plant has become vulnerable due to harvesting for medicinal purposes[
Known Hazards
The sap of Aloe species contains anthraquinones. These compounds have several beneficial medicinal actions, particularly as a laxative, and many species of Aloe are thus employed in traditional medicine. Whilst safe in small doses and for short periods of time, anthraquinones do have potential problems if used in excess. These include congestion and irritation of the pelvic organs[
Botanical References
Range
East tropical Africa - Kenya.
Habitat
Rocky, grass-covered slopes; at elevations from 1,980 - 2,380 metres[
Properties
| | |
| --- | --- |
| Medicinal Rating | |
| Habit | Evergreen Shrub |
| Height | 1.00 m |
| Cultivation Status | Wild |
Cultivation Details
Aloe species follow the Crassulacean acid metabolism (CAM). CAM plants can fix carbon dioxide at night and photosynthesize with closed stomata during the day, thus minimizing water loss. This, plus their succulent leaves and stems, and the presence of a thick cuticle, makes them well adapted to dry conditions[
Edible Uses
None known
Medicinal
The plant is harvested from the wild as a source of bitters for sale[
The distinctive constituents in Aloe leaves are phenolic compounds, including chromone, anthraquinone or anthrone derivatives. Some of the compounds are found in many species, whereas others occur in only a few[
The leaf exudate contains aloe-emodin, aloenin, aloesin, aloeresin B and homonataloin[
Other Uses
None known
Propagation
Seed - we have no specific information on this species - in general Aloes are sown in a sandy, well-drained potting soil in a warm, shady position in standard seed trays. Germination takes about three weeks. Cover the seed with a thin layer of sand (1 - 2mm), keep moist. The seedlings can be planted out in individual bags or containers as soon as they are large enough to handle[
If you have any useful information about this plant, please leave a comment. Comments have to be approved before they are shown here.