Acacia ehrenbergiana
Fabaceae
Classification of the genus Acacia (in the wider sense) has been subject to considerable debate. It is generally agreed that there are valid reasons for breaking it up into several distinct genera, but disagreement in the way this should be done. As of 2012, not all species have been properly renamed and we are currently unable to find information on any new name for this species[
Similar to A. Hockii , but differs in having only 1-2(-3) pairs of pinnae, and a somewhat different distributional range; also occupies drier habitats. Also resembling A. Seyal for which it has been mistaken[
Acacia flava (Forssk.) Schweinf.
Acacia flava ehrenbergiana (Forssk.) Schweinf.
Mimosa flava Forssk.
Common Name: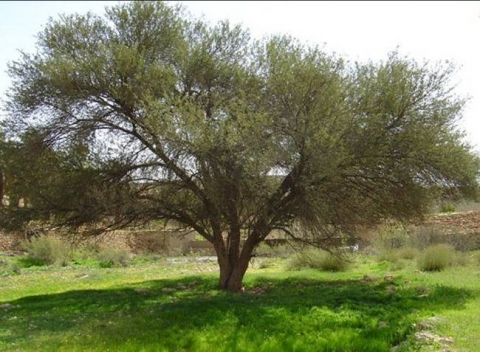 Tree growing in native habitat
Photograph by: ???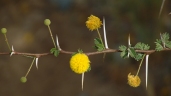 Flowering stem. This photo is probably the correct species, but might be a very similar species.
Photograph by: Lehva

General Information
Acacia ehrenbergiana is a shrub or small, often many stemmed tree growing from 2 - 6 metres tall[
The plant is gathered from the wild for its gum and fibre, which are used locally.
Known Hazards
None known
Botanical References
Range
Africa - Sahelian regions from Morocco to Senegal, east to Sudan and Ethiopia.
Habitat
Dry semi-desert areas on sandy soils; on sand in association with Zygophyllaceae, Panicum turgidum; in sand on sandstone (Mauritania); on clayey-gravelly soil; sandy and stony desert wadis and plains[
Properties
| | |
| --- | --- |
| Medicinal Rating | |
| Other Uses Rating | |
| Habit | Shrub |
| Height | 5.00 m |
| Cultivation Status | Wild |
Cultivation Details
A plant of arid and semi-arid areas in the tropics and subtropics of Africa. Very tolerant of low rainfall, it is able to grow in sandy soils with only 50mm rainfall a year; in clay soils with 150mm; and on slopes and in dry river valleys with 300 - 400mm[
Requires a sunny position. Prefers coarse and stony soils, especially gravels[
This species has a symbiotic relationship with certain soil bacteria, these bacteria form nodules on the roots and fix atmospheric nitrogen. Some of this nitrogen is utilized by the growing plant but some can also be used by other plants growing nearby[
Edible Uses
None known
Medicinal
A gum obtained from the plant is used as an emollient[
Other Uses
A gum is obtained from the trunk[
Fibres obtained from the bark are used to make ropes[
Propagation
The seed of most, if not all, members of this genus has a hard seedcoat and may benefit from scarification before sowing to speed up germination. This can usually be done by pouring a small amount of nearly boiling water on the seeds (being careful not to cook them!) and then soaking them for 12 - 24 hours in warm water. By this time they should have imbibed moisture and swollen - if they have not, then carefully make a nick in the seedcoat (being careful not to damage the embryo) and soak for a further 12 hours before sowing.
If you have any useful information about this plant, please leave a comment. Comments have to be approved before they are shown here.